Area lights
Basic real-time area lights.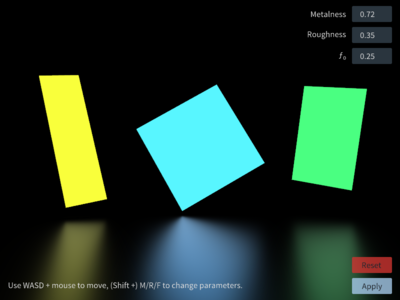 This example is a basic implementation of Real-Time Polygonal-Light Shading with Linearly Transformed Cosines. Three lights are displayed, each with different orientation and parameters.
W / A / S / D — move camera
Mouse drag — look around
R / Shift R — increase / decrease roughness of the plane
M / Shift M — increase / decrease metalness of the plane
F / Shift F — increase / decrease (specular reflection coefficient) of the plane
F5 — reload shaders
Roughness, metallness and can be also configured through the UI.